The town is a highland town which is about 600 meters above sea level. Infrastructure here is relatively good and the air is very fresh and cool, which is very suitable for relaxing tourism.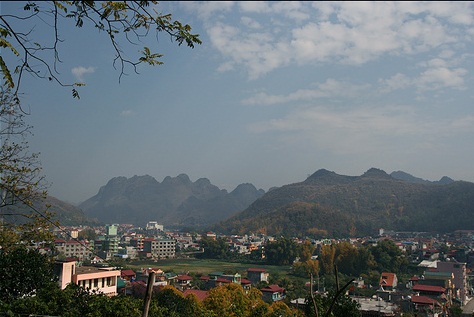 The Son La town is 380 km northeast of Hanoi. It is the social and cultural center of the province of Son La.
In the middle of the town locates the Son La prison where detained communist soldiers built by the French in 1908 on the Khau Ca hill's top on which has the grave of To Hieu and his peach-tree. Mai Son district has Tien Phong lake and Ta Hoc port locating at the bank of Da river. Reaching Ta Hoc port, you will begin a river tour on a boat rowing down and up the river and enjoy delicious fish dishes of native fishermen. Coming to Son La town, you will also have opportunities to visit the Tham Ke Cave and Tham Ta Toong Caves in the Thuong Thien Cavern in Chieng Ngan commune, or you can visit the Youth Moon Lake (Nguyet Ho Tuoi Tre) in Chieng An commune.

Besides, tourists in Vietnam travel to Son La can visit historic cultural relics like the Son La prison, the Temple of King Le Thanh Tong, traditionally vocational villages and farms, or take part in cultural festivals.
The hot stream of Mong Village which is 2 km far from the center of Son La town attracts a great number of tourists. According to the study of the Ministry of Healthcare, the hot water at the temperature of 37-380C of the stream can ease such diseases as stomach, rheumatism, etc.