In Vietnam travel to Son La, tourists can visit Chieng Coi with Pottery traditional handicraft has long existed from one generation to another.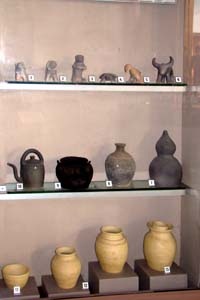 Chieng Coi locates along the National Road No. 6. It previously belonged to Muong La district. Currently, Chieng Coi is a part of Son La town. A majority of its population is the black Thai ethic people that have been living here for a long time. As a result, the wet rice agriculture in the village has considerably developed.
Pottery in Chieng Coi has long existed from one generation to another and been developed in Me and Ban Mountain Villages.
Pottery products of Chieng Coi mainly consist of home appliances and small cooking utensils like earthenware pots, herb-simmering pots, etc.
Formerly, potteries of Chieng Coi are extensively traded. Currently, villages in Chieng Coi stopped producing them due to low quality and simple designs not satisfying consumers' preferences. However, the Thai ethnic people in Chieng Coi remain proud when talking about pottery - a traditional handicraft of their nationality.