A recommended spot for visitors in Vietnam travel when coming to Moc Chau is the Hang Doi (Bat Cave). The cave has an area of 6,915 square meters and locates in the north-east of the Moc Chau town.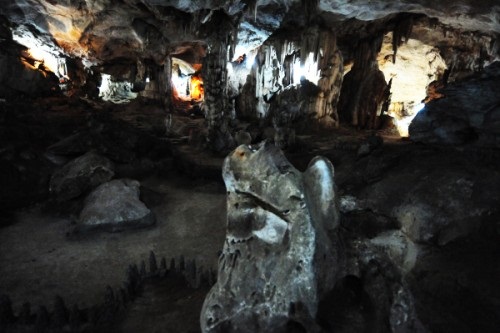 Driving from Hanoi to the center of Moc Chau town along the National Road No. 6, you will reach the cave which is on the right mountain row 165 meters far from the town.
It was said that once upon a time a spiritual dragon flied to the South China Sea. When flying across a valley in Moc Chau, it was attracted by imposing mountainous landscapes, a cool climate and fresh air and therefore landed and resided here. When the dragon died, it spat out 7 gems which transformed into 7 small mountains surrounding the colorful valley which is white in the dawn, green at mid-day and violet at nightfall.
The interior architecture of the cave is very nice. From the ceiling of the cave hangs down twinkling 7-colour stalactites which form naturally without the building of the human. Many stalactites are 20 meters long. They look like roots of an ancient banian-tree. Others look like kapok, god, elephant, tiger, lion, varan, eagle and masses of cloud. In the middle of the cave locates a unique magnificent palace of a princess. We can only find others in legends.
On the cupola of the cave, there are many small rocky holes which teem with bats. From the cupola, drops of water from stalactites fall off, creating melodious sounds. The Bat Cave is an interesting destination for visitors both local and foreign in Vietnam tours.