Thac Ba Lake is a favourite destination of Yen Bai province. The water in the lake is blue and clear, and imprinted with the reflections of the surrounding ancient forest.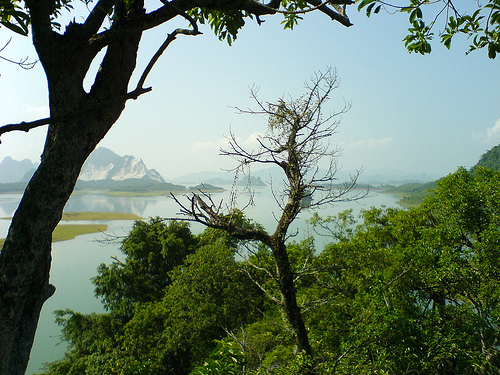 This artificial lake has an area of 23,400 ha and 1,331 islands and hills with diverse ecological environments. The thousands of hills and islands feature caves such as the Hum, Cau Cuoi and Bach Xa. The Thac Ba Temple always draws visitors to Vietnam travel.
Thac Ba Lake is not only a beautiful landscape, but it is also a national vestige. In 1285, this area witnessed a battle in which General Tran Nhat Duat defeated Yuan- Mongolian troops. In the Upper Lake, there remain several vestiges of the offices of Central agencies in the anti-French resistance. In the middle of the lake stands the Mong Son Grotto, which houses the Yen Bai Party Committee during the anti- American resistance.
The Thac Ba Hydroelectric Station is the first of its kind built in Viet Nam. A master plan is being drafted to develop Thac Ba Lake into an eco-tourism centre, where tourists in Vietnam travel can relax by the lake or climb the mountain and explore the forests.
To reach Thac Ba Lake from Yen Bai, tourists can travel along Hao Gia Road for about 5km, then Go Mo Hill (10km) to Lang Dat (the way leading to Rang St, 19km) to the Vu Khe Road junction. Then turn left and continue for about 4km to Yen Bai district.