Dai Cai Temple, which was built by the bank of the Chay River, faces the river and the gates of Hac Y mountain. Dai Cai Temple was built on a large area covered with many green trees and attractive riverside roads.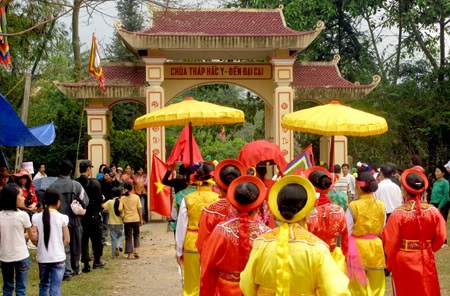 Hac Y Mountain – Dai Cai Temple: This area is about 80km from the city of Yen Bai. This complex includes the Nha Bau citadel, Black- Cloth King Mountain and Dai Cai Temple.
The Black- Cloth King Mountain is natural masterpiece. Legend is that this was place where Black Cloth King (under Tran Dynasty) flew into the sky. On the top, there is a garden, a fish raising pond and remains of religious monuments from the Ly and Tran periods. Nowadays, standing on Dai Cai Temple, tourists in Vietnam travel will see the statue of the Black-Cloth King and his horse on the top of the mountain.
In the Dai Cai Temple Area, many stone tools have been found, which demonstrate specific characteristics of the Son Vi culture. Nha Bau citadel now has some Remains.
The Dai Cai Temple Festival annually takes place on the 16th day of the 1st lunar month.