Luc Yen precious stone market located right in center of Luc Yen town, Yen Bai province. Precious stone market dealing whole week but Sunday is the most crowded days.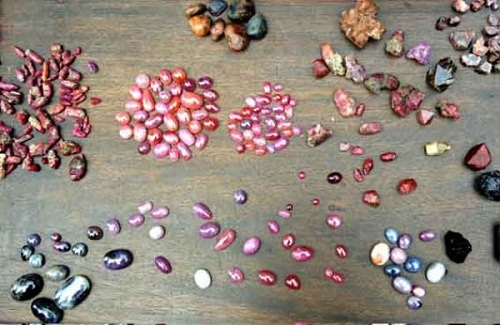 There are dozens of small stalls laid out the young age stone on table, many type of stones come from three gems zone throughout Vietnam, including Luc Yen (Yen Bai), Quy Hop (Nghe An) and Dak Nong. However gems types in the market is young age stone, but rich colors, used for gems stone paintings.

Perhaps, due to abundance of stone colors Luc Yen has brought to this land a different taste compare to stone center such as Dak Nong, Quy Hop... And so this market is the place to provide raw materials for handcraft to make precious gens paintings, the paintings are probably reproduce from some original source, both folk and modern paintings. All colors of stones are naturally. At first glance, thought those might be dyeing stone colors, but not, because if the dye, while put the stones on painting, the solvent dissolves the adhesive 502 will be all kinds of dyes.

The paintings of Luc Yen's gem can be famous painting as other type Vietnamese traditional folk painting of Dong Ho. It is difficulty to be sure; because of stone source of Luc Yen are gradually using up. However, the handcraft of making pictures from gems in here, then perhaps nowhere is comparable. Who knows, one day handcraft man of Luc Yen will buy stone from Quy Hop, Dak Nong, even from far distant such as Myanmar gems, to create a new brand of handcraft village to attract tourists in Vietnam travel.