Pottery tower pagoda of Hac Y, or also called Hac Y temple it use to located on the mountain of "black gown " King, belong to Tan Linh commune, Luc Yen district, and about 80 km faraway from Yen Bai City.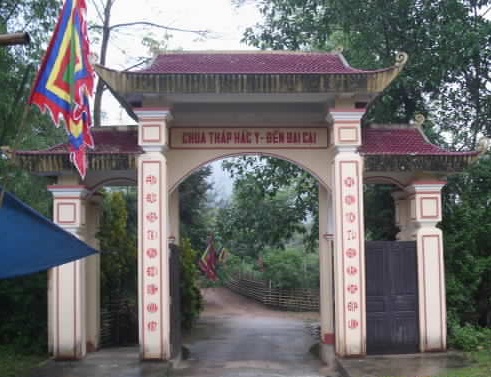 The pagoda carrying many unique architecture features of Tran dynasty. The Hac Y Temple is on the Hac Y Hill... This is the place witnessed glorious time in the history of Vietnam.
Legend said that during the 18th Hung Vuong king time, there was a snake deity emerged who helped the King fought the enemies. People now established shrine under an ancient tree in Dai Cai temple. Once here look up Black Gown King Mountain we would see imposing image of deity with high cliff stone be hide. There is a deep valley, pond sky, many small caves and orchards ... along with precious wood such as justice, nails, shower and some animals such as antelope, monkeys...

This relic's area also includes Hac Y tower, Ben Lan temple, black gown deity mountain, Dai Cai Temple. The monument is largely ruined, but now being restored. Ben Lan temple with many stones of 0.72 m diameter. Black gown deity moutain is a high mountain with a fish pond, gardens, and the remains of religious works during the Ly - Tran. Dai Cai Temple next to Chay River, the main front of house overlooking Hac Y Hill. The temple was built in a large campus; there are many trees along rivers and roads creating intensive and ancient beauty. In Dai Cai Temple, Ben Lan, people have found many pebble tools characterized Son Vi culture.