Though many countries' dress standards have been adapted or lost, Laos is one country that has been able to conserve the culture handed down by our parents, Deputy Minister of Information and Culture Mr Bouangeun Saphouvong told the participants at a recent meeting at the Lao Women's Union.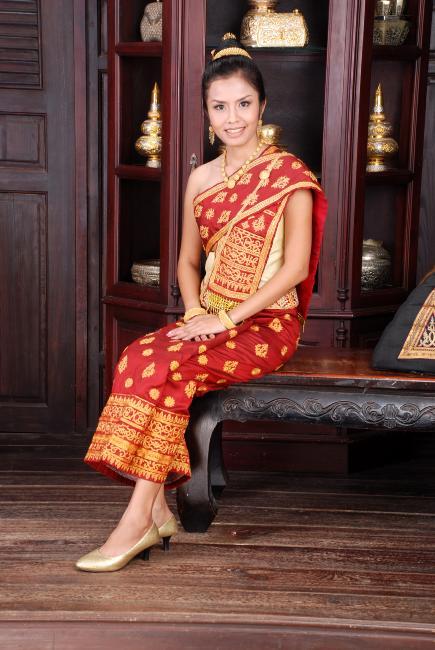 Mr Bouangeun, who was speaking during a discussion on preservation of culture by encouraging women to dress appropriately on each occasion, said he was proud of our motherland and its artwork and weaving skills. He is also head of the artistic team which performs overseas or welcomes guests from other countries, and he pointed out that these shows not only focus on dance and music, but also display the traditional clothes that represent Lao identity and culture.

Many issues related to traditional clothing and Laos customs were raised for discussion during a meeting of officials from the Ministry of Information and Culture, Ministry of Education and other departments.
The Women's Union works actively to minimise detrimental trends through training and disseminating information to Lao women throughout the country. The union has various activities to raise awareness in the younger generation of their culture, including exhibitions, textile collection drives, ancient textile shows, trade fairs, ethnic dress shows, and the Ms Aphone Lao contest.
Union Vice President Ms Khamchanh Phomsengsavanh told the meeting that some people dressed inappropriately, or in ways not in keeping with Lao tradition. "This can lead to social problems including rape, human trafficking, a rise in entertainment workers and family problems that tarnish the country's culture as well as the image of women," she said. She outlined the union's views on regulations for appropriate dress codes on special occasions in order to conserve and encourage Lao culture.
"Our regulations won't force people to dress appropriately, but the directives should be aimed at public figures, such as singers, presenters and performers, in order to set a good example to others," Mr Bouangeun said. His team of cultural performers have played at important conferences for foreign guests, including the Thai Prime Minister Samak Sundaravej, who visited Laos last week. They use the stage to showcase Lao culture through their performances.
"Although we don't have dress regulations yet, Lao people are able to follow their traditions and they can choose what they should be wearing on each occasion," he said.
The Deputy Minister explained that it is obvious some countries have changed and lost their culture, while Laos has been able to preserve it. "I say from the bottom of my heart that Lao women still appreciate their beautiful culture of dress. It shows when girls from kindergarten up to women office workers wear the sinh , they look beautiful," he said. "Traditional clothing represents Lao women of each ethnic group, their beauty, charms and attractions in line with tradition.
"In fact our aunts, mothers and sisters are the ones who make and wear the clothes, while it seems to be the man's task is to admire their beauty. This makes it difficult for me to advise women what to wear; it is like the proverb says: don't teach your grandmother how to suck eggs. However, the government has requested our ministry to oversee this work, so we have come to share our views on the issue.
"Dressmaking is a dominant art of which we are proud and its heritage has been handed down through the generations. The styles not only represent the variety and abundance of our natural resources, but also the inner hearts and minds of the people, expressed through their gentle manner, attitude and behaviour. These make our dress outstanding and different from other countries."
Mr Bouangeun said that how people dressed could also represent the fortunes of their families and, consequently, appropriate clothing, on the right occasion, not only showed respect to Lao culture, but also their guests and hosts.
"To avoid the intrusion of inappropriate cultural values, we have to produce inexpensive, high-quality clothing for Lao consumers, to encourage them not to purchase unsuitable products from neighbouring countries," he added.
Local clothing producers agreed that local prices could be high. "I admit that our skirt prices are quite expensive," the owner of Taykeo Textile Gallery Ms Taykeo Sayavongkhamdy said. "But you have to understand the difficult, time consuming process involved, as we don't use machines like other countries. The process includes spinning the silk or cotton, dyeing the textiles, and weaving the patterns and designs. All these processes are reliant on raw materials and the skilful hands of the weavers, so the investment in each piece is quite high."
Ms Taykeo, who teaches weaving skills to Lao women, explained that wearing traditional dress helped maintain the local weaving industry, "but we are concerned for consumers as well, some Lao people simply can't afford to buy a silk sinh, which is why they don't wear them all the time," she said. "For nearly 300 years our people have felt comfortable wearing the sinh. They wore them all the time, but nowadays it depends on the occasion, for instance people find it difficult to travel on long journeys wearing one."
By Phonesavanh Sangsomboun