Tien Phi Grotto is situated on the top of Thuc Hill, also known as Thung Phi Hill, in Gai hamlet, Tan Hoa ward, Hoa Binh city, Hoa Binh province.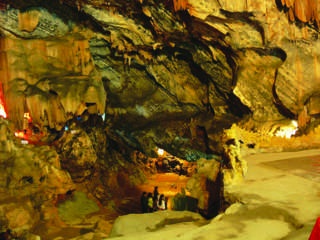 The grotto is situated Halfway on side of Thung Phi Hill in Gai hamlet, 5 kilometres in the northwest of Hoa Binh City centre. After climbing about 1 km of hill side, tourists will arrive at the grotto entrance where they can immediately notice on the cliff, the figure of a very beautiful flying fairy, hence the name of this grotto. Following the steps, in the fanciful light of the lamps, tourists shall be engulfed in thoughts about the beauty of various shapes and forms of mountain stones in the paradise created, carved and polished by the Creator.
On the wall near the entrance to the grotto is a figure of the beautiful flying Fairy Lady. Inside the grotto is an entire mysterious world of million-of-year-old stalactites, where visitors marvel at the multiform and multishape of mountain stone endowed by the Creator.