Trai hamlet Cave is a nationally recognized archaeological site situated on the Eastern side of Khu Trai Mountain in Trai hamlet, Tan Lap commune, Lac Son district, Hoa Binh province.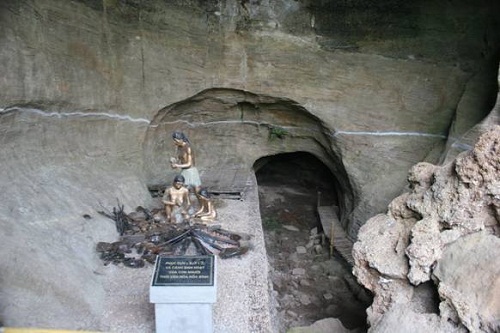 From the cave, thousands of objects made of stone, bone, horn and pottery, as well as trace remnants of mollusk and plant, especially tiny bits of rice husks, unhusked rice at a depth between 0 - 80cm, were found, as well as an ancient path that dates back tens of thousands of years etc. These objects validate the presence of primitive peoples in Vietnam and the Southeast Asian region.
The Valley in front of Trại Hamlet cave
Currently, Trai Hamlet Cave is a place for visitors and researchers alike of the Hoa Binh culture in the heart of the ancient Muong Vang region. Coming to this site, visitors learn about the cultural characteristics of the Muong ethnic group while enjoying the natural landscape of the Muong Vang valley. Moreove, Muong Vang people is the most famous of Muong's groups including Bi, Vang, Thang and Dong of Hoa Binh province.
The Valley in front of Trại Hamlet cave