Khau Vai Love Market in Ha Giang has become a meeting place for all of those in love, also attract many tours and tourists in Vietnam travel to visit here.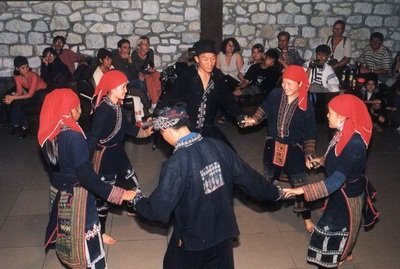 Khau Vai Love Market - Ha Giang
Once a year, parted lovers have a chance to rekindle past affairs by trekking through forests and mountains to reach the Khau Vai Love Market in Ha Giang Province to enjoy a brief reunion during which they share sweet memories, swap gifts, or simply stare at each other. Sometimes, they are accompanied by their spouses on a journey as wild as the terrain.
The 'market' is in fact is a venue for former lovers to pour out their hearts. It takes place on the 26th and 27th of the third lunar month on top of a hill in Meo Vac District. The dates are chosen in honor of a legend about a couple who had to say goodbye a long time ago on the 27th as they belonged to hostile tribes. It is said that after death, this separated couple became fairies to help ex-lovers fulfill their hearts in this world.
A local myth tells the story of a young couple from different tribes who fell in love with each other. The girls belonged to the Giay group and the boy belonged to the Nung group. The girl was so beautiful that her tribe did not want to let her get married with a man from another tribe. Consequently, violent conflict arose between the two tribes.
One day, the boy witnessed an aggressive fight between the tribes as a result of their love. To stop the blood shed, the lovers sorrowfully decided to say goodbye. However, they made plans to meet once a year on that day, lunar March 27.
The place where they used to meet is Khau Vai, which thereafter became a meeting place for all of those in love.
Although the market is famous as a venue for ex-lovers to warm up their hearts, it also has a reputation for chastity. Couples simply engage in friendly chats, swap gifts, and drink wine. Perhaps it is this purity that makes it so attractive and lovely.