Dong Van, a land of harsh life in Ha Giang province, Northeast Vietnam but bears the magic beauty has long been a famous spot for photo hunters because of miraculous beauty as sunset falls on stone rocks of cat-ears.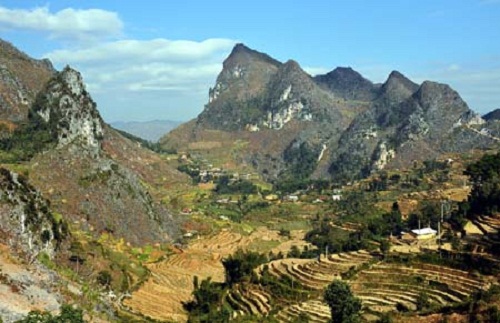 Dong Van district is a high-border region of Ha Giang. 1,000 m above the sea surface, terrain is composed of mostly mountain rocks. The district is only 146 km from Ha Giang town but transportation is very difficult. In winter temperatures sometime drop to 1oC and in summer hottest time is just around 24oC, it is foggy throughout the year

Dong Van has the extreme point of North Vietnam in Lung Cu. It is said that if not on Lung Cu, it has not yet considered to be in Dong Van, Lung Cu is reckon as the "rooftops of Viet Nam" where one turn their face down to touch earth and turn up to touch heaven".

Dong Van famous for its delicious fruit: peach, plum, pear, apples.. Dong Van is also famous for its scenery such as mountains, caves, the forests colorful flowers, ulticoloured orchid forests, plum and peach trees, persimmon orchards, and more... The plateau provides famous products such as Hau plums, peaches, and persimmons without seeds. Dong Van apples are as big as pears. In Dong Van, numerous valuable plants used for their medicinal value are found, including ginseng, anise, and cinnamon. This place is created for artists a source of inspiration to make works of art, photographers do not have a two in the world of nature: forests, mountains, fields stairs ... unique photos which cannot be found anywhere in the world about nature, mountains, forests, rice terraces...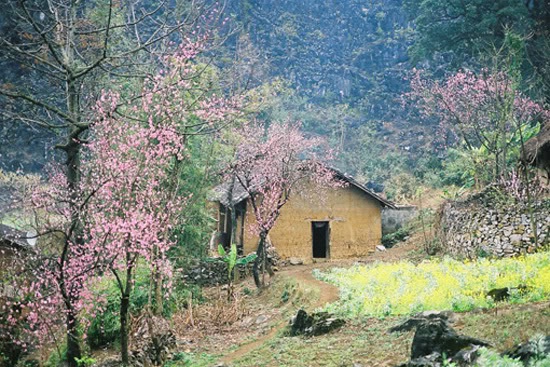 Visiting Dong Van, tourists in Vietnam travel can see Pho Bang, also called Pho Bang Street, which was built a long time ago and features multi-storey houses made of clay bricks and tile roofs. Visiting Dong Van on Sundays, one can shop in a very original mountain market where all kinds of goods and multicoloured clothes can be purchased.
For tourists in Vietnam travel, reaching Dong Van is an opportunity to test your courage with heavenly high passes and deep abyss, sometime one has to walk. But in exchange, you are immersed with the majestic nature, living alongside people still poor but full of joy and happiness in life.