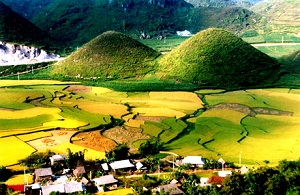 Coming to Ha Giang, tourists are attracted by poetic Dong Van Highland, Love Market of Khau Vai
Geography
Located at the highest latitude in Vietnam, Ha Giang is surrounded by Cao Bang on the east, Tuyen Quang on the south, Lao Cai, and Yen Bai on the west. It shares a border with China in the north (274km boundary).
Ha Giang's complicated topography is divided into 3 areas. The area on the south has rocky mountain, separated rivers. The west area has sloping mountain side, high pass, valleys, and narrow springs. The low land area includes hills, valley of Lo River, and Ha Giang Town.
Hà Giang is divided into: one town municipality (thị xã) Hà Giang and 10 districts (huyện): Bắc Mê District, Bắc Quang District, Đồng Văn District, Hoàng Su Phì District, Mèo Vạc District, Quản Bạ District, Quang Bình District, Vị Xuyên District, Xín Mần District and Yên Minh District, five precincts, nine towns under districts, and 181 communes
The climate is divided in two distinct seasons, rainy and dry, although it tends to vary depending on altitude. The annual average temperature varies between 24 and 28ºC. In winter, the temperature is sometimes down to -5ºC.
Tourism
Mountains in Ha Giang are quite high, in which the highest Tay Con Linh point with 2,419m in height. There are good woods, over 1000 kinds of valuable drug trees, animals (tigers, peacocks, phoenix, pangolin) in primitive forests.
Coming to Ha Giang, tourists are attracted by poetic Dong Van Highland, Love Market of Khau Vai. They can buy embroidery such as handkerchief, haversack, and dress with colorful, fine pattern. They also take part in enjoyable market-day of local ethnics. The people and natural scenes here are unlike anywhere in Vietnam.