Together with Nui Coc Lake, the community sightseeing of Phuong Hoang Cave - Mo Ga Streem in Thai Nguyen has attracted many tourists in Vietnam travel to here.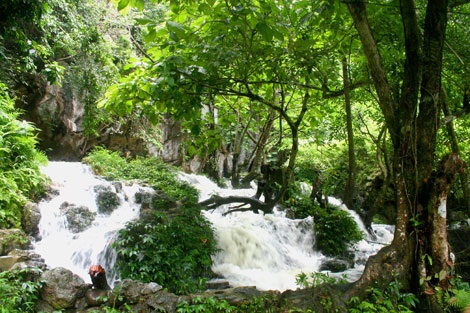 Phuong Hoang Cave - Mo Ga Streem in Thai Nguyen
Phuong Hoang Mountain associated with the story of a couple of phoenix. According to ancient legend, there was a couple of phoenix living happily on the mountain and gave a birth of two eggs. Every day, the male bird looked for food and the female bird brooded her eggs. One day the male bird flied with a new female bird and forgot his tasks and not coming back. Then one day it realized that it had to return to his wife but she turned into stone. Regretfully, he lied in the opposite mountain to look forward anxiously to his wife back to normal, but waiting for a long time it also turned into stone. Since then the mountain named Phoenix (Phuong Hoang).

From the foot of Phuong Hoang Mountain, climbing over the stone path of cat ears you will Phuong Hoang cave. Cave has three floors: the upper floor is Doi cave, the middle floor is Sang cave, and the last floor is Toi cave. Sang cave is the most beautiful and largest cave. Light projection from outside makes sparkling and magical stalactites in the cave. Standing in front of thousands of beautiful stalactites, you reach the imagination: the mother carrying the child to the mountain-field, the original colonies were hunting the animals; the lantern of thousands of tons ...
Foot of the mountain is Mo Ga stream cave. The door of that cave is about 10 meters wide, there is a water slot flowing from the cave out. In front of the cave, there are many small waterfalls for bath, many models of stone benches, Stone Island, cool water, landscape. After you watch sightseeing in the Phuong Hoang Mountain and Mo Ga bathroom is the place where you take a rest, wash your hands, a cold shower is ideal, especially in hot summer. All create a natural majestic and poetic landscape attracting to many tourists and tours.
Visiting Mo Ga Stream in Thai Nguyen, tourists in Vietnam travel will enjoy the vitality of earth and air as well as the mysterious fragrance of mountainous flowers and forest ginsengs.