Travel to Nui Coc Lake in Thai Nguyen, tourists in Vietnam travel can take a trip to one of the interesting stops it is Huyen Thoai Cung (Palace of Legend).
There has many statues made by 50 artisans from Nam Dinh Province. On a little bamboo boat, tourists can live out the legend of Cong and Coc as passing the little statues .Scenes of caves has been designed by architectures on an area. It is one of a cultural tourism work. Architectures have designed the system of the caves on an area of 3,000 square meters. Tourists will see the statues of Cong and Coc standing by the gate of the tourism site. It is far about 100 meter from the gate.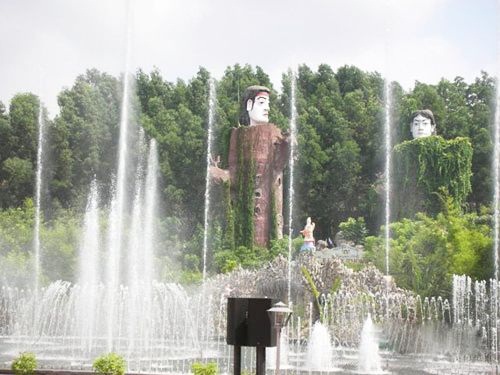 The statues of Cong and Coc
The Palace Legend's the appearance is like a mountain range with the statue of male fairy holding a bamboo stick. Tourists can see the man-made stream flowing around the cave. Besides you can look at scenery of the two sides.