Au Co Mother Temple is a favourite place and an important worshiping relic amongst historical relics of Phu Tho province.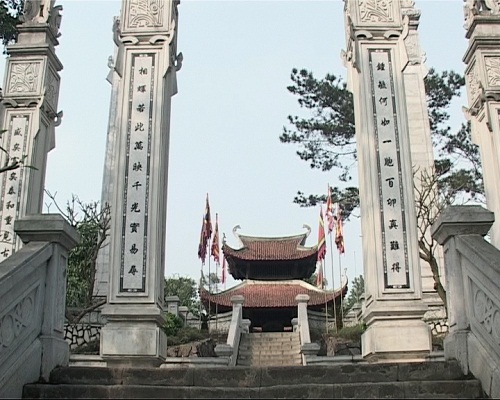 Au Co Mother Temple - Phu Tho
The Temple of Au Co Mother was established in Hien Luong commune, Ha Hoa district, Phu Tho province, where possesses heaps of mountains, a large reservoir and a range of flat plain along the river.

Legends said that Vietnamese people are descendants of Lac Long Quan Father and Au Co Mother. After a 3-year-and-10-month pregnancy, Au Co Mother gave birth to 100 eggs which hatched out 100 sons. Lac Long Quan Father took 50 sons to the sea. And Au Co mother, after leaving her first son on the Nghia Linh Mountain, took other 49 sons to Hien Luong commune for living. She and her sons broke fresh ground and founded villages.
One day, Au Co Mother flied to the sky and left a pink blouse at the foot of a banyan tree. Hien Luong's peoples built a temple at the foot of the tree to memorize the mother's merit called the Temple of Au Co Mother. On the left side of the temple is locating Loan well and on the right side is Phuong well. Opposite the temple is lovely Giac Mountain and behind is winding Hong River. Luxuriant trees are growing surrounding the temple. The Au Co Mother Temple consists of 5 large sacrifice rooms and 3 harem rooms. Inside the temples has a system of ancient relics of high arts like Au Co Statue, Duc Ong Statue, etc., which are embossed carefully. Au Co Statue is 85 centimeters high and put in a 3-side glass cage, which is put on an altar located at the height of 2.2 meters in the last room of the temple. Au Co Mother Temple is an important worshiping relic amongst historical relics of Phu Tho. The temple annually receives the visits of a large number of pilgrims.