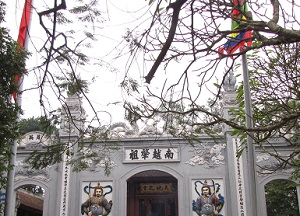 Phu Tho has bright culture. Archaeological sites like Son Vi, Dong Dau, Lang Ca and many pagodas, temples, tombs around Nghia Linh Mountain prove that Phong Chau used to be cultural center of ancient Vietnamese
Geography
Located in the Plains and Midland in the North of Vietnam, Phu Tho shares border with Tuyen Quang, Yen Bai provinces on the north, Vinh Phuc, Son La Province on the west and Hoa Binh Province on the south.
The terrain is mainly made up by hills. There are also three big rivers namely Red, Da and Lo rivers running through Phu Tho.
Phú Thọ is divided into one city (thành phố) (Việt Trì) , one township (thị xã) (Phú Thọ) and 11 districts (huyện): Cẩm Khê District, Đoan Hùng District, Hạ Hòa District, Lâm Thao District, Phù Ninh District, Tam Nông District, Tân Sơn District, Thanh Ba District, Thanh Sơn District, Thanh Thủy District and Yên Lập District.[7] These are divided into 275 communes
Phu Tho has a monsoon tropical climate with a cold winter and hot summer, annual average temperature of 23ºC, annual average rainfall of 1600-1800mm and annual average humidity of 85-87%.
Tourism
Phu Tho is consider as ancestral land of Vietnam. Den Hung (Hung Temple) Remains is tied to the legend about 18 Kings Hung who built Van Lang State, the first one of Vietnam, with Phong Chau as the capital.
Phu Tho has bright culture. Archaeological sites like Son Vi, Dong Dau, Lang Ca and many pagodas, temples, tombs around Nghia Linh Mountain prove that Phong Chau used to be cultural center of ancient Vietnamese.
Xuan Son National Park and Ao Chau Pond are famous beauty spots of Phu Tho. Every year, Xuan Son attracts many tourists to come for recreation and discovery diversified flora and fauna. Heading for Ao Chau, tourists can enjoy the fresh air and taste local specialties like fruits, carps, turtles, crabs, snails and so on.
Phu Tho is home of many festivals including Bach Hac, Chu Hoa, and most honorable one is Den Hung Festival. This festival is on 10th day of the 3rd lunar month annually corresponding to the anniversary of the Kings Hung. Now, it becomes a great ceremonial festival of the Vietnamese nation.
Beside of these, the people here preserve some traditional songs: xec bua, vi, dum, xoan, gheo songs.