Dong Ky, a traditional wood carving village is located in Dong Quang Commune, Tien Son District, Bac Ninh Province, about 25km from Hanoi Capital. Previously, Dong Ky had its reputation for the fire cracker festival organized on the January the 4th according to lunar calendar. This was a fire cracker contest where the participants made big cylinder crackers measuring from 0.5 to 0.8 meters across and 3 to 5 meters long made of many small fire crackers. The crackers that exploded all their small fire crackers were the winner. The festival no doubt evolved from ancient religious rites begging for thunder, lightning, and rain.

However, the festival is no longer permitted since the lighting of fire crackers is prohibited nationwide. Today people in Dong Ky village are engaged in making carved hardwood furniture in both private and state run workshops. The craftsmanship is superb, the hardwood used for the large pieces of furniture is ebony, iron, and lat wood Canary wood (Vang Tam wood) is used for small, light pieces and patterned furniture. The most common pieces are tables, chairs, cupboards, and carved beds.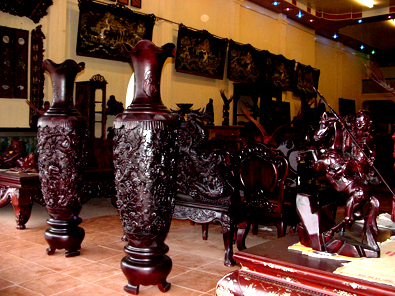 At Dong Ky, visitors will be surprised at the beauty, quality and sophistication of the furniture made by "golden hands" of skilled craftsmen here. It would be a pity if tourists leave this village without buying some handcrafted furniture custom-made here.