In Binh Thuan, famous tourist sites include Phan Thiet, Mui Ne, Doi Duong and Ham Tan.
Geography
Binh Thuan Province is located on coast of South Central Vietnam. It shares its border with Ninh Thuan Province to the north-east, Lam Dong Province to the north, Dong Nai Province to the west, Ba Ria - Vung Tau Province to the south-west, East Sea to the east and south-east.
Binh Thuan has three types of topography: mountainous, plain and coastal. The coast longs over 192km with many capes: La Gan, Mui Nho, Mui Rom, Mui Ne, Ke Ga. They create good seaports: La Gan-Phan Ri, Mui Ne - Phan Thiet, La Gi. The Phu Quy District offshore links mainland to Truong Sa Island. The main rivers run through the province are La Ga, Quao, Cong, Dinh.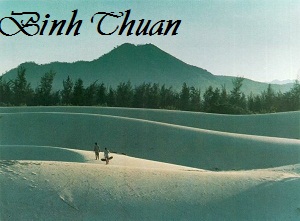 Binh Thuan is divided into eight districts:
Bắc Bình

Đức Linh

Hàm Thuận Bắc

Hàm Thuận Nam

Hàm Tân

Phú Quý

Tánh Linh

Tuy Phong
The provincial capital, Phan Thiet, is a separate municipality - as well as the town of La Gi.
Climate: The province lies in the monsoon tropical area with two distinct seasons. The rainy season: from May to October and the dry season: from November to April following year. The annual average temperature varies between 27ºC and the yearly rainfall is 800mm - 1,500mm
Tourism
Binh Thuan has many forests so that wood, cashew nut processing and handicraft are strong point of province. The long coast-side is convenient for sea economy such as fish catching, salt and fish sauce processing, frozen seafood. Binh Thuan attracts tourists by lovely landscapes. The mountains lie from west to east and reach beautiful beaches. Famous tourist sites include Phan Thiet, Mui Ne, Doi Duong and Ham Tan. Coming to there, tourists are able to have leisure activities as swimming, fishing, climbing, yachting, golf playing in many beaches and resorts such as Vinh Hao - Tuy Phong, Hon Rom, Novotel Ocean Dunes, Malibu, Palmira resorts... Apart of that, there are many great architectural sites such as Po Sha Nu Tower, Ta Cu Mountain, Hang Pagoda, Cham Royal Family Collection etc.