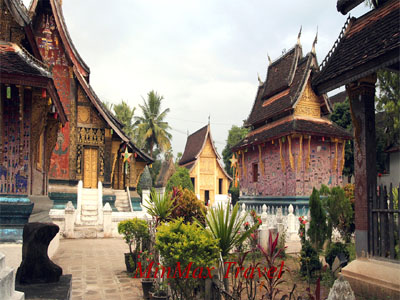 Despite its small population, Laos has 49 ethnic groups, or tribes, from which Lao, Khmou and Hmong constitute approximately three quarters of the population. Most tribes are small, with some having just a few hundred members. The ethnic groups are divided into four linguistic branches: Lao-Tai language represented by 8 tribes, Mone-Khmer language with 32 tribes, Hmoung-Loumien language with 2 tribes and Tibeto-Chinese language represented by 7 tribes.
Laos is officially Buddhist, and the national symbol, the gilded stupa of Pha That Luang, has replaced the hammer and sickle even on the state seal. Still, there is a good deal of animism mixed in, particularly in the baci (also baasi) ceremony conducted to bind the 32 guardian spirits to the participant's body before a long journey, after serious illness, the birth of a baby or other significant events.
Lao custom dictates that women must wear the distinctive phaa sin, a long sarong available in many regional patterns; however, many ethnic minorities have their own clothing styles. The conical Vietnamese-style hat is also a common sight. These days men dress Western style and only don the phaa biang sash on ceremonial occasions. Nowadays women often wear western-style clothing, though the "phaa sin" is still the mandatory attire in government offices (not only for those who work there, but also for Lao women just visiting).