The official language of Laos is Lao, a tonal language closely related to Thai. Thanks to ubiquitous Thai broadcast media most Lao understand Thai fairly well, but it's worth learning a few basic expressions in Lao. Most younger people prefer to learn English over other foreign languages in school, so young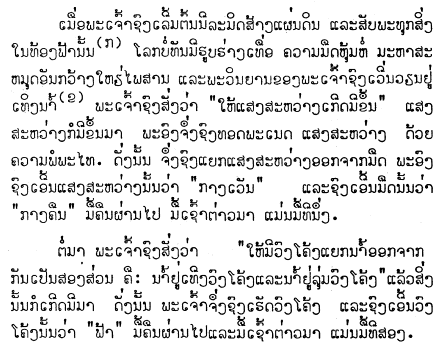 people generally know some basic English, though proficiency is generally poor. French, a legacy of the colonial days, still features on signs and is understood by some older people, but these days English is far more popular. Tourist areas will sometimes have school children who will practice their English with you as part of their curricular requirements. They may after a conversation, ask you to sign a form or pose for a photo with you as proof that this conversation took place. These conversations can be a great time to gain some local ideas for your next sightseeing trip.
There are two main ways to turn the Lao script into the Latin alphabet: either French-style spellings like Houeisay, or English-style spellings like Huay Xai. While government documents seem to prefer the French style, the English spellings are becoming more common. The latter is used on Wikitravel. Two quick pronunciation tips: Vientiane is actually pronounced "Wieng Chan", and the letter x is always read as an "s".

The Lao language is a member of the Tai language group, sometimes known as Tai-Kadai or Kadai. Thai is well understood in Laos, since Lao people will watch Thai television and listen to Thai radio. Many of the goods that you will see in Laos are imported from Thailand. The north eastern part of Thailand, known as Issan has in fact more Lao speakers than Laos itself.

Lao is a tonal language, with six tones, some linguists have defined it as five. The difficulty lies in each word which contains a tone for each syllable and these tones vary in many circumstances. For example people from Vientiane will change a middle consonant word from low tone to rising tone when it is placed at the end of a sentence or when it stands by itself whilst there is no change in tone when it is placed in the middle of a sentence. Additionally tones vary in different regions of the country. People in the north tend to speak more slowly than others in the country leading to their words being drawn out.

The good news is that Lao is easily understood since there is so much individual and regional variations people are accustomed to hearing the words pronounced in different ways. You will be understood even if the tones and vowel lengths are not perfect, as long as the words are in context you will win instant friends.

Alphabet

The Lao alphabet is made up of 33 consonants representing 21 sounds. Consonants are divided into 3 groups according to the tone in which they are spoken.

middle consonants class





low consonant class




high consonant class




The consonants are classed as this forms the base tone for each consonant. Often you will see the consonants charts sold at the markets looking like this:

consonants chart



Those learning Lao learn each consonant which corresponds to a word. This helps the student identify the consonant class and the consonant much easier.

Vowels are grouped into two main groups, short and long vowel sounds. Sometimes you will see dipthongs which are two vowel sounds combined together.