Siem Reap, is a province located in northwestern Cambodia, on the shores of the Tonle Sap lake. The provincial capital is Siem Reap. The name literally means Siamese defeated referring to the victory of the Khmer Empire over the army of the Thai kingdom of Ayutthaya in the 17th Century. Today it is most widely known for being the closest city to the ruins of the temples of Angkor.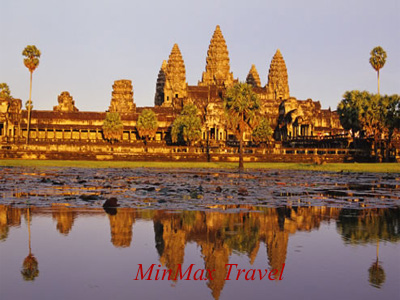 Overview
Located in northwest Cambodia, Siem Reap is the major tourist hub in Cambodia, as it is the closest city to the temples of Angkor. The most recognizable of the temples, Angkor Wat, literally Capital Temple, built by King Suryavarman II the early 12th century provides the largest tourist draw.

Recently the city has seen a great deal of expansion, hundreds of hotels, restaurants and shops, catering to both international and Cambodian tourists have opened to serve the influx of visitors. Also, King Norodom Sihamoni and the Cambodian royal family maintain a residence in the town. The Angkor temple complex is north of the city.

Other sites of interest near Siem Reap include Angkor Thom built by Jayavarman VII, Banteay Srei, Ta Prohm, as well as hundreds of other temple ruins. Angkor, and the surrounding area that would later become known as Siem Reap, faced repeated invasions from the Thais, and ceased to be the capital after a seven-month siege in 1431. The capital was moved to Phnom Penh in 1866. The temple ruins were visited by Western explorers and missionaries before the 19th century, but Henri Mouhot is generally seen as having "discovered" Angkor Wat in 1860.

While under Siamese control, the province was named Siam Nakhon (Siamese City), and was renamed to Siem Reap (meaning Siam defeated) after Siam had to cede it to French Indochina in 1906.