This beautiful coastal city - Vung Tau is 128 kilometres to the Southeast of Thanh Pho Ho Chi Minh ( Saigon City) and 90 kilometres to the North of the town of Bien Hoa.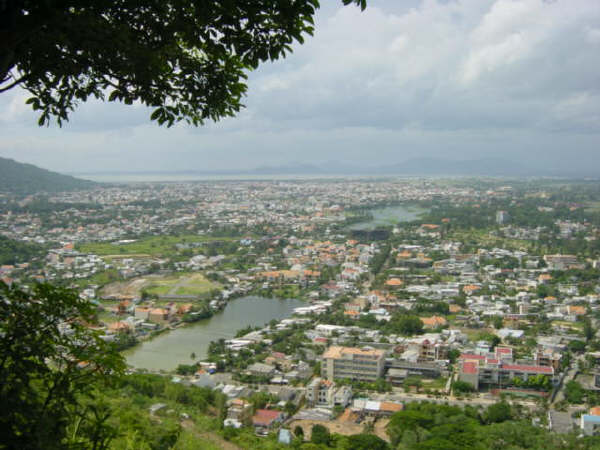 With 15 kilometres of coastline, Vung Tau is endowed with many beautiful swimming and sunbathing beaches such as Bai Sau, Bai Dua and Bai Dau. The beach at Bai Truoc is an excellent spot for sightseeing. Bai Sau ( Back Beach) is known locally as Thuy Van. This is one of the largest and most attractive swimming beaches Vietnam has to offer. Bai Truoc ( Front Beach) is also known as Tam Duong. It looks like a small body of water adjacent to the open sea, which is almost free from large aves. The promenade on Bai Truoc is suitable for old people and children who find it hard to spend long periods of time on the crowded swimming beaches nearby. O Quan Beach is also known as Vong Nguyet ( Awaiting the moon). The sea water here is clear blue, and the waves are quite large. Those who don't like to mix with other swimmers always prefer the quiet Bai Dua ( Dua Beach). Located at the foot of the Lon mountain, Bai Dau ( Dau Beach) is small but has gentle waves.
So many privileges from the nature is it owning, Ba Ria - Vung Tau promisingly becomes one of the most famous and beautiful destinations of Vietnam tourism that attracts a great deal of visitors all over the worlkd annually.