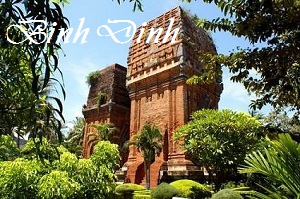 The long coast with many coves and lochs makes many beautiful spots and beaches such as Phuong Mai Peninsula, Queen, Quy Hoa and Ghenh Rang beaches
Geography
Binh Dinh is located on the coast of Central Vietnam. It is surrounded by Quang Ngai in the north, Phu Yen in the south, Gia Lai in the west, and the East Sea in the east with the coastline of 100km and some island offshore. The topography is divided in four regions: highlands, midlands, plains, and coast.
Binh Dinh is divided into 1 city (Qui Nhon) and 10 districts:
An Lão

An Nhơn

Hoài Ân

Hoài Nhơn

Phù Cát

Phù Mỹ

Tuy Phước

Tây Sơn

Vân Canh

Vĩnh Thạnh
Climate: The annual average temperature varies between 26 and 28ºC. It is hottest in August and coldest in January. The annual average rainfall is 1,700mm - 1,800mm. The rainy season lasts from August to December.
Tourism
The long coast with many coves and lochs makes many beautiful spots and beaches such as Phuong Mai Peninsula, Queen, Quy Hoa and Ghenh Rang beaches. Besides these, Ham Ho Valley is a beautiful fresh water spot as a change for visitors who prefer tramping in the bush and a swim in the fresh water stream.
Binh Dinh is famous as the centre of the old Sa Huynh Culture. It used to be established as one of the capital cities of the former Cham Kingdom for a long period. The popular Cham towers are Banh It, Duong Long, Canh Tien and Doi. Binh Dinh has special products such as silk, swallow nest, shrimp, fish, precious wood, vegetable oil, rice, marble, titanium, and handicraft articles.