To the southest, you see the meaning of life...
Ca Mau is the last province in the Southern tip of Viet Nam, with geographical coordinates from latitude 8030 - 9010 North and longitude 104080 - 10505 East. The province adjoins Kien Giang and Bac Lieu provinces on the North, the East Sea on the East and South. The Thailand Gulf adjoins Ca Mau on its western side. Ca Mau province covers an area of 5,208.8km2, accounting for 1.57% of the country area, and 13.6% of the Mekong River Delta.
Southernmost Ca Mau province with its advantages on seafood, large crude oil reserves and mangrove and cajeput forests has the potential to attract domestic and foreign investment. With a coastline of 254 km and almost 250,000 ha of water surface for shrimp raising, Ca Mau is one of four key fishing grounds in Viet Nam.
The province has injected money into developing the seafood processing industry along with zoning off material areas in order to fully tap its potential. Aside from developing services and infrastructure for fishing and crude oil exploitation, Ca Mau has developed fleets of deep-sea fishing vessels, gradually replacing coastal fishing ships. The province has also built advanced seafood processing factories to diversify products for export suitable to market demands.
More interestingly, many uniquely natural site in here have been developed to be many exciting attractions that contribute remarkably to Vietnam tourism in general each year. Although the travel services remain some drawback, the tourism department are trying their best to upgrade them.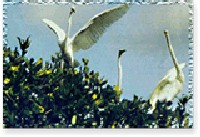 Ca Mau's bird sanctuary is actually 45 km south-east of the town in the Dam Roi District. It is a living and gathering place of indigenous storks.
The birds make their nests in tall trees and spend their mornings searching for food; the perfect opportunity for tourists to take out the cameras. Ca Mau Tourist Company has a one-day bird-watching program by boat.

Hon Khoai island, located 20km from Ca Mau cape, is a historical vestige, in connection with the insurrection led by Hero Phan Ngoc Hien.
Hon Khoai locate in the international navigation is very importance. Ca Mau province is currently concentrating its investment in some ecological tourist lines, such as: Ca Mau - Ca Mau Cape; Ca Mau - U Minh forest - Hon Da Bac; Ca Mau - Cha La - Dam Thi Tuong;
Ca Mau - Hon Khoai; Ca Mau - Khai Long - Dat Mui. Other tourist spots in Ca Mau are being under construction and gradually put into operation for serving both local and international visitors.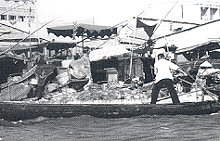 Why can't visitors visit the market at sunrise to be hold a fresh? Why at dawn? It's because the market at dawn is like a person's infanthood, which is beautiful and pure. Dew remains on the mosquito net covering the kids sleeping on the boats' roof. Gradually the dew dries as a busy trading day begins.
Hundreds of small and big boats, well-loaded, are side by side, creating a long row. Sellers and buyers in boats pass by. The early morning is the time of small boats with women selling breakfast foods, with the fragrance of cakes spreading farther than the calls. It is also the time of motorboats that come from hundreds of rivers and rivulets to buy goods, especially vegetables, and then head off on long selling trips. And it's the time of vendors on the boats getting busy about displaying their produce to make it look the freshest and their boats the tidiest.
In the old days, like many other floating markets in the delta, the market on the Ca Mau River traded many commodities, from basic goods to furniture. Now, that form of trading is found only with the vegetable motorboats that go to people's homes, whereas the Ca Mau. Floating Market only wholesales fresh agro-products, especially vegetables and fruit.