Geography
Located in center of Red River Delta, Hung Yen shares border with Bac Ninh Province on the north, Ha Nam Province on the south, Hai Duong, Thai Binh provinces on the east, Hanoi on the west.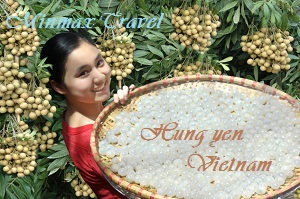 Terrain in Hung Yen is quite event and flat with many rivers.Hong, Luoc, Cuu An, Ke Sat rivers surrounds three sides of province. In addition of that, there are Kim Nguu, Nghia Ly, and Bac Hung Hai rivers.
Climate: Hung Yen belongs to monsoon - tropical climate area. There are clearly two seasons: the hot and the cold seasons. Cold season is dry, from November to April next year. In hot season, it rains a lot from May to October. The annual average temperature is about 23ºC
Tourism
The famous site in Hung Yen is Pho Hien relic group, including Van Mieu, Hien, Chuong pagodas,Mau Temple. Other popular sites areKim Chung, Huong Lang, Thai Lac, Ne Chau pagodas, Chu Dong Tu, Phuong Hoang, Dau An, Da Hoa temples.
Hung Yen is home of famous people like Nguyen Binh, Hoang Hoa Tham, Doan Thi Diem, Le Huu Trac, Chu Manh Trinh, Vu Trong Phung, Nguyen Cong Hoan, To Ngoc Van, Pham Huy Thong.
Coming to there, visitors enjoy traditional songs such as cheo, a dao, trong quan or take part inChu Dong Tu, Tu Phap, An Xa Village, Ghenh Temple, Co Le, Tho Hoang hamlets festivals.
Especially, Hung Yen's cape-longan is very well-known. This sweet longan with a thick pulp and a thin peel, used to be offered to kings only.