At the height more than 1600 metres from the sea level, Si Ma Cai (Lao Cai) always attracts tourists in Vietnam travel by the deep green color of the mountains, the winding roads and honesty, open-heart of women in the ethnic Mong and Nung.
Si Ma Cai is 27km from Bac Ha, 98km from Lao Cai City and 135km from Sapa
Terraced fields in Si Ma Cai
Innocent smiles of young girls in Si Ma Cai Market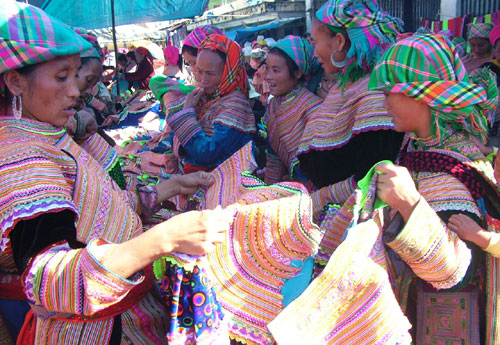 Si Ma Cai Market in Lao Cai
The name Simacai means " horse market" in H'mong language and old peoples said that It was the biggest horse market of the region. However, life is changing fast and horses are not the only purchasing objects nowadays.
The market place is simply a large ground near the recently developed town let of Simacai District with some thatched huts built to accommodate shops and food stalls.
Every Sunday, Simacai market attracts some thousands of Flower H'mong, Zao, Phu La peoples from villages in the region come to shopping, enjoying themselves meeting friends and relatives…after hard working days. They spend most of their time at the market talking, chatting and also drinking a lot.