Tuyen Quang owns 300 historical cultural vestiges. The famous one is Tan Trao Historical Site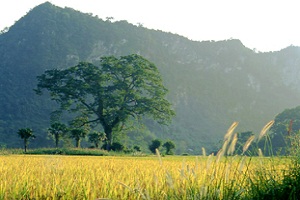 Geography
Situated on Far-North East, Tuyen Quang Province is surrounded by Ha Giang, Cao Bang, Yen Bai, Bac Kan, Thai Nguyen, Phu Tho, Vinh Phuc provinces.
Tuyên Quang is divided into: one town municipality (thi xa) Tuyên Quang and 6 rural districts: Chiêm Hoá District, Hàm Yên District, Lâm Bình District, Na Hang District, Sơn Dương District and Yên Sơn District, seven precincts, five towns under districts and 129 communes.
Mountains occupy almost area of province. The province has natural potentiality of primitive forest and mineral. The main rivers are Lo and Gam.
Influenced by tropical climate, the summer is very hot. There are two seasons: dry and rainy. Annual average temperature is 24ºC
Tourism
Tuyen Quang owns 300 historical cultural vestiges. The famous one is Tan Trao Historical Site. It was used as a resistance base before the August 1945 Revolution. The main places of interest include Tan Trao Communal House, Hong Thai Communal House and small jungle hut where President Ho Chi Minh lived from June to August 1945.
The province also has Na Hang Primitive Forest. It is home of valuable fauna and flora such as dinh, mun (ebony trees), sen (bassia), ape, panther, flying weasel, antelope, and upturned-nosed monkey.
The sounds of the waterfall, birds and gibbons, and silver light going through the thick layers in Thac Mo (Mo Waterfall) provide enjoyable feeling for visitors.