To Thi Mountain, also known as Vong Phu Mountain in Lang Son, has the shape of a woman carrying the baby in her arms and waiting her husband coming back from the frontier.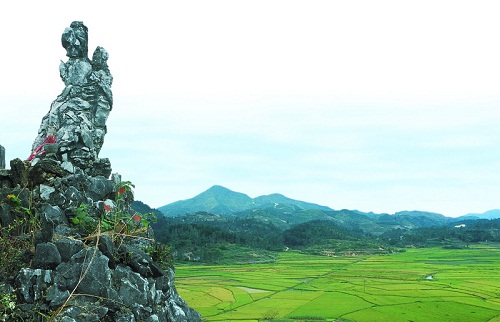 To Thi Mountain (Vong Phu Mountain) - Lang Son
Vong Phu Mountain, meaning "waiting for a husband". From ancient times, this human-shaped stone has been associated with the fairy Mrs To Thi hold the baby to waite for husband return from battle field, but never saw him back, and finally she was turned into a rock. So that people called it To Thi.
Located on the northwest of Tam Thanh Mount, Lang Son City, Lang Son province, the legend about To Thi had come into Vietnamese people minds that has created natural image of a mother hugging her child, waiting for husband as a faithful symbol of the iron hearts of Vietnamese woman. Over the years, this monument has been destroyed. Lang Son province has to reconstruct as original to preserve a relic that went into the Vietnamese people feelings.