The Tho Ha Communal House is located in Tho Ha Village in Viet Yen District of Bac Giang province. It is an ancient communal house built during the rule of King Le Hy Tong.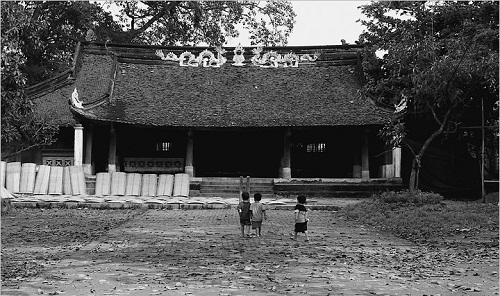 The house is set amidst many old trees. It was Built in the form of the Chinese character cong and it is known as "the praise-giving house." It is built over a raised ground and is 27 metres (89 ft) long and 16 metres (52 ft) wide and approached from all sides by three grey stone steps.
The roofs of the Communal House has an ancient crescent-shaped tiled roof that curves up like a scimitar sword blade. At the four corners, decorated with purple-burned glazed terra-cotta creatures of lion cubs are depicted. It has 22 levels engraved with dragons, clouds, and lion cubs. The communal house has 7 rooms built on 48 ironwood pillars. The roof frame is decorated with engravings of "ladies in long dresses wearing their hair in buns or turbans, riding phoenixes and dragons or dancing over the floating clouds".
Polished blue stones decorate the floor of the house. It has a wooden entrance engraved and painted in gold which gives it an ancient ambience. There is also an inscription on a stone, which says that the Tho Ha Communal House was built out of contributions made by Tho Ha villagers.