Located in Luc Ngan District, Bac Giang province, Cam Son Lake (Cấm Sơn) Is famous blue water all year round, is the ideal place for tourists in Vietnam travel to visit on holiday.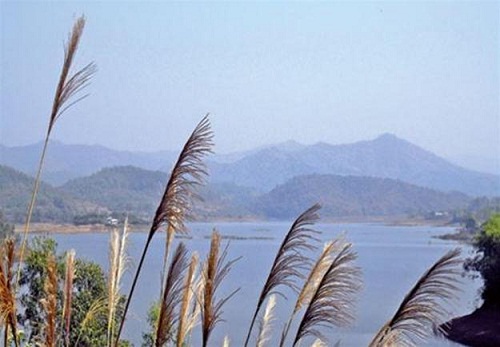 Normal lake water surface 2.600ha but the rainy season, flooding come make water level rise up pretty high that make the lake larger equivalent as 3000ha. Length of the lake near 30km, 7km wide, the widest, narrowest spot is 200m. Around the lake are high mountains surrounded, or put another way, the shore of the lake are the mountains and tall trees. Coming to Cam Son Lake, visitors can see here the beautiful picture by the shores of lakes are the imposing mountain with the tall trees shed their shadows on the water that is quiet and decorated by hundreds of islands looks like a miniature Ha Long of Bac Giang land.
With the planned construction projects around the Cam Son Lake, not much longer, Cam Son will become attractive resort for visitors with many types of tour activities: boating, hiking, fishing, walking in the villages of ethnic minorities, or walking in the forest...