Ba Be National Park is a precious natural heritage of Vietnam, a complete and complicated system of primitive forest on stone mountains which are surrounded by tranquil lakes.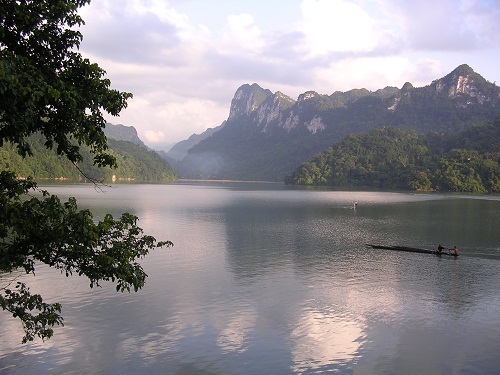 Located 250 km away from Hanoi and 70 km away from Bac Kan's center, Ba Be National Park belongs to Ba Be district in Bac Kan province. The national park covers a total area of 23.240 ha which houses 417 types of plant and 299 types of animal. There are a plenty of precious and endangered species that inhabit in this region.
Visitors in Vietnam travel who come to Ba Be not only enjoy the charisma of nature but also get to know many traditional and scientific values of this natural park through the helpful and energetic tour guides. In sunny days, the scenery resembles a Feng Shui painting that mesmerizes even the most demanding visitors. The surface of the lake is flat; it transforms the whole lake into a mirror that reflects the figures of the majestic mountains and the shining cloud.
Romantically, the young Tay girls in black outfits stand on different boats, helping travellers to cross the picturesque Ba Be Lake. Without a doubt, they are the knowledgeable amateur travel guide who continuously surprise you in your journey to explore this beautiful land. You will be also amazed to learn about the lives of the ethnic groups: their culture, their routine life, their myths, their traditions, etc. People are extremely hospitable in Ba Be so you can even have a chance to visit their house and experience for yourself the breath of Ba Be's mountains and forests.
The park is a complex including lakes, rivers, streams, forests, and caves. Mother Nature loves it too much that she decides to give Ba Be a warm weather in winter and a cool weather in summer so that it can become an ideal destination for people from everywhere to come, admire and cherish in just any season.
The national park is really an inviting environment to relax and enjoy nature. It's special limestone landscape which is dotted with small villages of different ethnic groups that creates a charming vista of both human and natural beauty. To enjoy these sites, there are some activities for you to choose:
Boat tours around Ba Be Lake and Nang River stopping off at various beauty spots.
Trekking through the valleys, forests and visits to caves.
Without doubt, Ba Be National Park displays an impressive amount of evidence of ecological condition. It is a site of very great importance for increasing our understanding of the geologic, geomorphic of the region.