Ba Be Lake is the largest natural lake in Vietnam and is now the centrepiece of an extensive National Park. This is one of must-see places for tourists in Vietnam travel.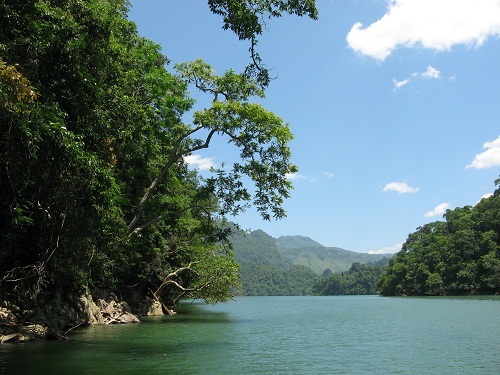 Ba Be National Park is a reserve in Bac Kan Province, Northeast Vietnam, set up to protect Ba Be Lake, a freshwater lake, along with surrounding limestone and lowland evergreen forests. It is situated about 240 kilometers northwest of the capital city of Hanoi, 70 kilometers northwest of the provincial capital Bac Kan, and about 14 kilometers west of the town of Cho Ra. It was established in 1992 with superb facilities such as an information center, guest houses, a lake management station, and an ecological research station. Ba Be Lake, or Ho Ba Be in Vietnamese, means "three lakes" in English, referring to the three parts of the lake Pe Leng, Pe Lu and Pe Lam, all connected into one continuous body of water. It is the largest and highest natural freshwater lake reaching out about 8 kilometers in the north-south direction and about 150 meters above sea level.
Unlike most lakes in the area, Ba Be Lake never goes dry. It has an average depth between 17 and 23 meters and a maximum of 35 meters. Ba Be Lake is home to a rich flora and fauna. It is made up of mainly limestone and evergreen forest, boasting of such beautiful and equally rare plant species as Burretiodendron hsienmu, Streblus tonkinensis and climbing bamboo. It is like the Garden of Eden as 65 mammal species, 27 bat species, 233 bird species, 43 reptile and amphibian species106 fish species and 354 butterfly species can be found all around the park. Among the park's special features are the Puong Cave, a large cave located at the north side of the park and through which Nang River flows. About 5,000 to 10,000 bats belonging to 18 species live inside the cave. Another pride of the park is the Fairy Pond, a rock basin filled with clear water which runs through the limestone rock.