Phongsali Province

Enclosed on three sides by China and Vietnam, Phongsali is Northern Laos' most inaccessible province. Twenty-two ethnicities make up the province's population of approximately 152,000, among them Kheu, Sila, Lolo, Hanyi, Hmong, Pala, Oma, Eupa, Lorna, Pusang, Mien, Akha, Haw, Thai Dam, Thai Khao, Thai Lu, Phuan, Khamu, Phai, Vietnamese and Yunnanese. The Phu Noi (recognizable by their white leggings) are the most numerous ethnicity, followed by the Thai Lu, Haw, Akha and Khamu. Prior to the Sino-French Treaty of 1895, Phongsali was an independent Thai Lu principality attached to Xishuangbanna in southern Yunnan.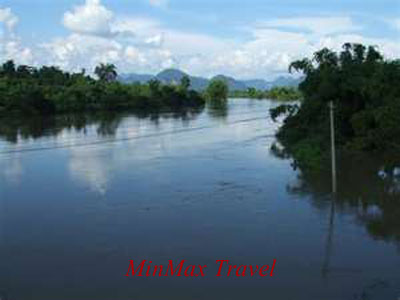 Phongsali's population density is 9.4 per square kilometer, the lowest in the country after Sekong and Attapeu Provinces. Opium poppy cultivation is widespread among the Hmong, Mien and Lolo in this province. As in Udomxai and Luang Nam Tha, the Chinese presence has increased steeply with recent road and construction development. Chinese-style tea is cultivated in some parts of the province.

Phu Den Din NBCA covers 1310 sq km in the north-eastern comer of the province along the Lao- Vietnamese border, adjacent to Vietnam's Muong Nhe Nature Reserve. Mountains in this area reach up to 1948m and bear 77% primary forest cover. Many threatened or endangered mammals live in the area, in eluding elephant, tiger, clouded leopard, banding, gaur and Asiatic black bear.