Bolikhamxay Province

Located: in the central of Laos.
Total area: 14,863 square kilometers.
Population: 190,000.
06 Districts: Pakxanh, Thaphabath, Pakkading, Borikhanh, Viengthong and Khamkeuth.
Capital: Paksan.

Bolikhamxay (or Bolikhamsay) Province is located in central Laos in the narrow "neck", with moderately high mountains sloping Southwest into the Mekong River valley.

Bolikhamxay can be reached by bus, 150 km or about 3 hours leaving from the Morning Market bus station.

Vientiane and Xieng Khouang Province lie to the North, Khammouane Province to the South. Pakxan is the capital town and is a commercial center. In Bolikhamxay Province, between Vientiane and the provincial capital Pakxan, a "footprint of Buddha" shrine at Wat Phra Baat is an important pilgrimage site. The most famous attraction of the region is its striking landscape. At Ban Nahin, Phou Pha Mane, a stone forest featuring thousands of rock pinnacles, can be found. Due to its proximity to Lak Xao, the latter is within easy reach for tourists crossing to Viet Nam.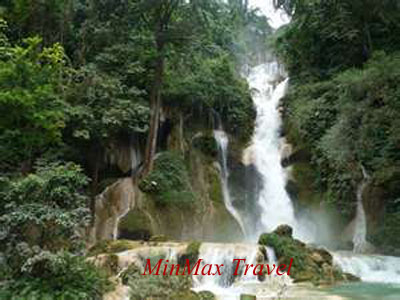 South of Lak Xao, the still pristine forests of Nam Theun National Biodiversity Conservation teem with varieties of wildlife. Nam Theun is the largest conservation area in the country at 3,700 sq.km, and is home to over a dozen endangered species including the Asiatic black bear, clouded leopard, elephant, giant muntjac, guar, Malaysian sun bear and tiger. The Sao La (spindle horn) or Vu Quang Ox-Pseudoryx nghetinhensis was discovered in neighboring Viet Nam in 1992, and sighted since then in Laos in the Nam Theun conservation area. Only two other land mammals have been classified with their own genus this century. The first live Sao La was captured in neighboring Khammouane Province in 1996.

Where to visit

Phonesan Temple: Located near Wat Prabath. This small, but picturesque temple overlooking the Mekong river is well known for "Bang Fai Phayanak" or the "Naga Rocket". a mysterious and still unexplained phenomenon, which occurs every year during the 15th day of the 11th month (according to the lunar calendar), when small fire balls in different colors shoot out of the river for about 10 to 15 meters and disappear in the sky.

Wat Dan Soung: A series of colorful buddhist buildings on the rocky outcrops surrounded by the beautiful nature. There are many large buddha images, a holy pool, flower gardens and rocks have interesting stories of the legend "Nang Sip Song" (The Twelve Ladies).

Tham Kaep: Located in Phou Kout, The Provinicial Protected Area near Ban Nong Boua, from Pakxan 16 km. This mysterious attraction is believed to be a sacred place for local people. Walking into a good forest then climbing quite steeply, you will arrive at a small waterfall and a variety of rock overhand, which provide a shelter for relaxing. The journey continues to the top of escarpment to see widely spectacular views.

Stone Forest: Thousands of rock pinnacles create sort of a huge limestone "forest" near Ban Napong, Pakkading District.

Hot Spring : Located near Bang Naong Or along the road to Vietnam. The hot water comes from below the river bed and piped to a series of baths. There is a bathing service for tourists.

Cool Spring: This spring of the Nam Mang river can be reached by turning left at Ban Phontan, Khamkeut District, after which you pass Ban Napavan and walk about 2 Km. It is a very nice place for picnic and refreshing swim in its cool water.

Dragon Cave: The cave in Ban Poung, Khamkeut District, is reminiscent of a huge dome with wonderfully formed by stalactites.

Pha Muang Cave: Just 45 km from Paksan district on the route 4B, this stunning limestone outcrop with its small cave is the center of "Nang Pomhome" the famous Lao legend.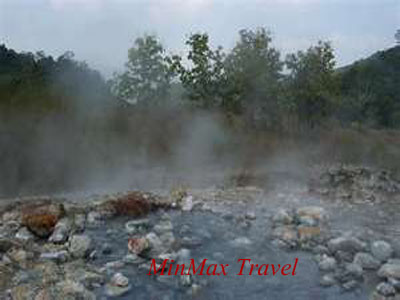 Pha Nang Hong: This outstanding mountain is so close to Lak Sao, Khamkeut district. There is a quite steep trail to the view point to see the fantastic views of Lak Sao and the mountain on the Lao-Vietnamese border.

Dragon Rapids: This beautiful rapids is located near Ban Thabok, Thaphabat district, about 3 km in from the south 13 road. There is a rapids and a waterfall (in rainy season). It is a good place for relaxing and picnic.

Tad Leuk: Located inside the Phou Khao Khouay National Protected Area, This beautiful waterfall is a very popular destination for visitor, both local and foreign. Tad Leuk is the most accessible attraction in the park and ideal for relaxing, swimming, camping and trekking. Tad Leuk also had a visitor center and a "Nature Trail".

Tad Xay: Cascading over seven steps, Tad Xay is arguably the most beautiful waterfall in the Phou Khao Khouay National Protected Area, Particularly attractive during the rainy season. It can be best and easily reached by a nice boat and trekking tour from Ban Hatkhai.

Tad Xang: Wonderful views await the visitor on top of this long limestone mountain with its steep cliff beautiful waterfall and lush green vegetation. It is located about 37 km east of Pakxan.

Tad Vangfong: in the midst of lush green vegetation. This beautiful waterfall at the confluent of the Nam Kadding and Nam Theun rivers can be reached after an hour by boat, starting from Ban Phonsy, Pakkading District.

Tad Nam Pa Waterfall: Traveling by boat starting from a nice sandy beach on the bank of Ban Nam Pa, a fairly typical Lao village, you will see the exciting nature view of Tad Nam Pa waterfall. Ban Nam Pa is just 25 minutes drive from Pakxan on the route 4B. The village also has handicraft products made by local people.

Tai Teng: The Tai Teng form a small, but colorful Lao ethnic minority group. They live around Ban Nong Or, Khamkeut District, about 17 km from Laksao. Besides rice farming they are well known for their beautiful silk handicraft.

Ban Na: This village at the edge of Phou Khao Khouay National Protected Area offers guides trekking tours into the nearby bamboo belt and forest. It is known for its wild elephants, which can be seen with a bit of luck from an observation tower close to salt lick. The villagers are also accepting tourist for home-stay.